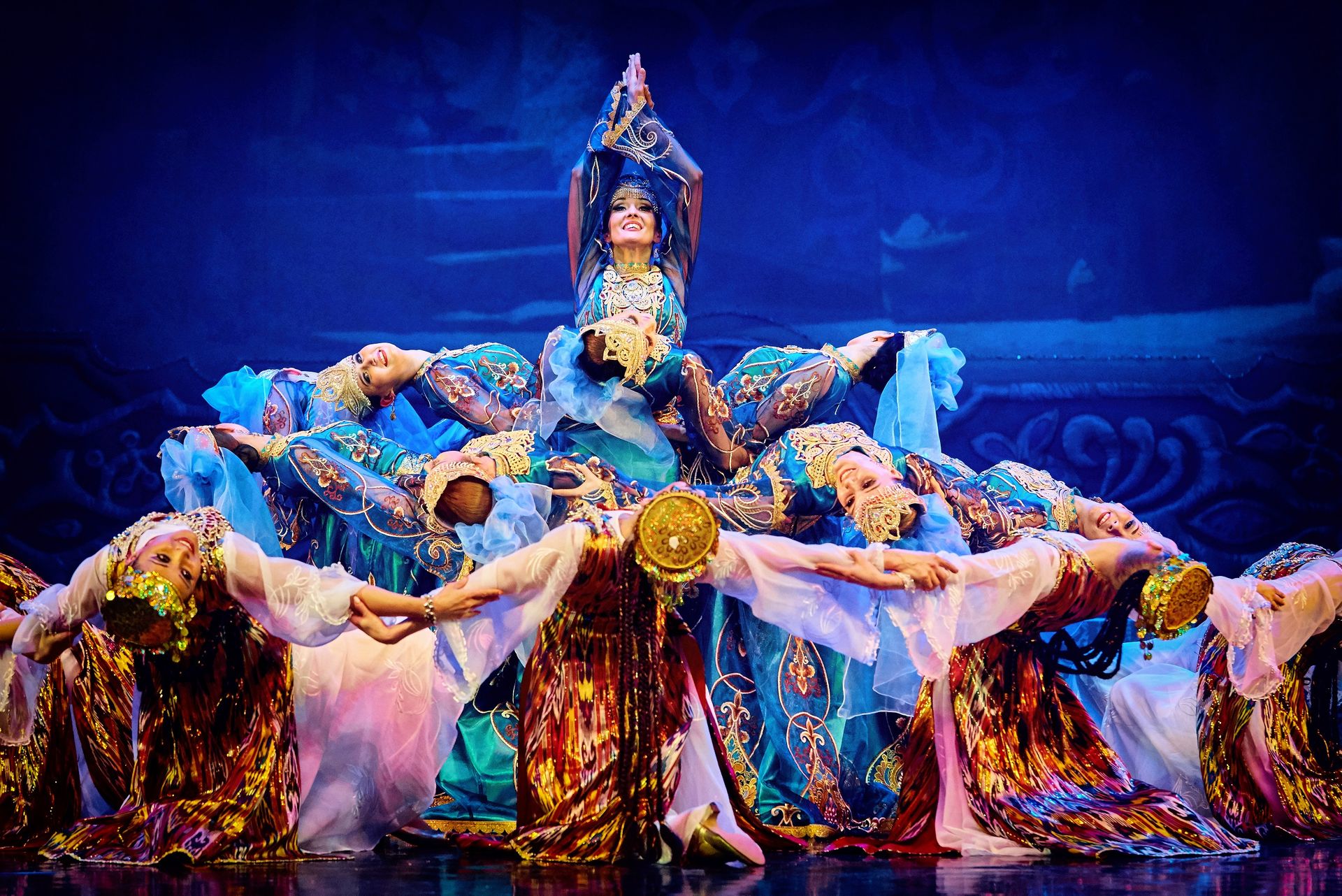 A new dance production of KAZAN dance ensemble led by its artistic director, People's Artist of Tatarstan Chulpan Zakirova. The show's title, 'The Silk Road', inherently carries the viewers' expectations to learn about the history of silk, the countries and legends of the East, their traditions and culture. The Silk Road is known to run through all countries of the Eastern and Central Asia, as well as China, India, Egypt, Caucasus, partially covering also Northern and Western countries such as Volga Bulgaria, the Crimean Khanate and Venice.
The main idea of the libretto, written by the production director, Honored Artist of Russia Valery Arkhipov, revolves around love and human relations, framed by historical facts and legends of the Silk Road countries.
The Prince of Persia and the Chinese Princess, the singing bird of Simurgh and Nasreddin Hodja are the primary characters found in the Eastern mythology and the main heroes of the Silk Road dance show.
The production involves movable scenery on wheels that helps to recreate the Princess's boat sailing along the river, the Crimean Khan's palace, the shopping stalls of a bazaar, one of the Pyramids of Egypt or the Pharaoh's throne. The sets and costumes are changed at an impressive speed throughout the show, and the viewer instantly gets drawn into the wondrous journey through many countries and epochs. The live music, the drum rolls and the use of bladed weapons in the dances are sure to impress even the most demanding viewer.
An emotional coloring is added by the Pharaoh of Egypt holding a live python on his bulky bare shoulders and by humorous scenes with Nasreddin Hodja and his old companion, a loyal donkey.
The finale of the show sees the triumph of love: the Prince of Persia finds and ransoms out the stolen Chinese Princess from the King of Byzantium and by doing this joins all peoples, cultures and epochs into one thread, one Way..